Lucky Strike: history of marketing pioneers
Originality and creativity have always been at the heart of marketing and at the basis of any communication campaign. The Lucky Strike tobacco brand is one of the pioneers in this area. Its cigarettes are notably famous for having been supplied to American soldiers during the Second World War.
D'where the name Lucky Strike comes from ?
Lucky Strike is a brand of cigarettes of the British American Tobacco group. It was launched in 1871. At the time, it was a smoking blend. L'story of Lucky Strike would be incomplete if the origin of its name is not addressed.
There is a legend according to which a A cannabis cigarette is hidden in a pack of Lucky Strike in a box of 1000. Coming across this special cigarette would therefore be a real stroke of luck.
In fact, the name Lucky Strike was inspired by the gold rush period. Indeed, when found a good source of income, they were said to have a " lucky strike ". The name of its cigarettes was cleverly chosen by the company to suggest that they have a precious side.
L'history of Lucky Strike, just like Harley Davidson and other brands, is inseparable from the Americanization of the world. This brand, which is emblematic of American culture, has also found a place in the television series Mad Men. It is also found in several American films about the'army.
Lucky Strike: a forerunner in marketing
L'story of Lucky Strike has been punctuated by some brilliant moves in the field of marketing. The Lucky Strike cigarette manufacturer has always been known for being a forerunner in communication. In 1928, he sponsored a musical space within the NBC: The Lucky Strike Dance Hour.
The personalities of the time who smoked its cigarettes were evoked between two songs.
The brand has deployed its most important communication campaigns like the one with the slogan "Reach for a Lucky instead of a sweet" from this space. Its cigarettes were then presented as beneficial for the line. It is unthinkable to make such an argument nowadays, as the harmful effects of smoking products on health are no longer to be proven. Cigarettes were also highlighted as a symbol of modernity and women's emancipation.
Lucky Strike wanted to appeal to this category of consumers with this other argument.
The company was also one of the first to develop its marketing strategy by exploiting the colors. It should be noted that if its cigarette pack is red and white, it has not always been so. Its original color was green with a hint of khaki.
In the 1930s, a trend around this shade was created by various designers and magazines based on a proposal byEdward Bernays. This famous public relations consultant directed all marketing strategies of Lucky Strike.
At 1934, a gala ball was held in New York. The wealthiest and most honorable families at the time were invited to the event. All the guests were obliged to smoke them had to wear green. This color has also predominated in the general decoration.
Since then, it has become fashionable. Consequence, Lucky Strike has seen its sales increase. Indeed, the brand has not only been able to retain its consumers, but it has also attracted new smokers, especially among women.
Over the years, this campaign fell into oblivion, which forced the cigarette manufacturer to reinvent itself. In 1942, its cigarette pack became white. It also adopted a new slogan, "Lucky Strike has gone to war", the change having occurred in the middle of World War II.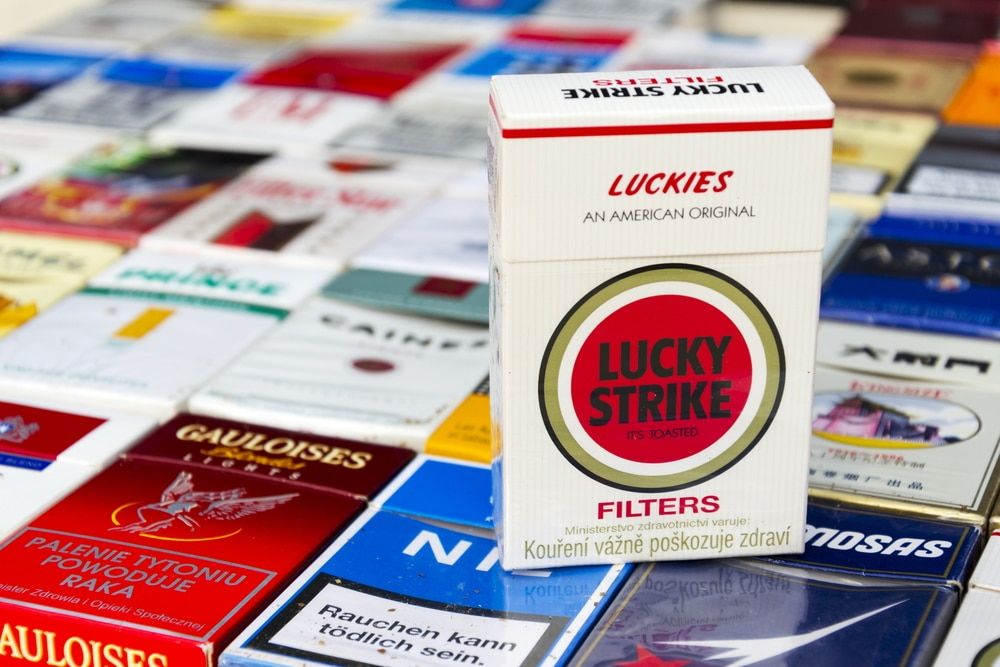 The brand's marketing innovations to attract a new clientele
An article in Le Figaro indicates that cigarette brands are using various marketing innovations to attract new customers. Lucky Strike is no exception to the rule. The manufacturer has for example launched convertible cigarettes called Lucky Strike Click'n'Roll.
They are contained in a package whose appearance has been improved and sporting attractive colors. Their price is higher than conventional cigarettes.
On the other hand, Lucky Strike has expanded its product line with electronic cigarettes and e-liquids. In the diversifying, the brand was aimed at people who wanted to stop smoking. The vapoteuse is indeed considered an effective aid to smoking cessation.